THEYY - a Hannover/ Berlin based duo with british background found a mutual love in their passion for music.
Shanice Ruby Bennett (bass for Lianne La Havas, Kat Frankie, Alli Neumann etc.) and Erika Emerson (Voc and writing for Emerson Prime, Passepartout, Kogi) combine electro-pop, hip hop/rap and neo soul influences to infuse a genre-bending blend of tracks, heavily inspired by artists such as Sevdaliza, BANKS and Massive Attack.
Driven by thick bass, tight beats and vocal soul fire, THEYY lay the perfect foundation for lyrics too honest for some, striving to normalize topics such as gender diversity, feminism and mental health awareness.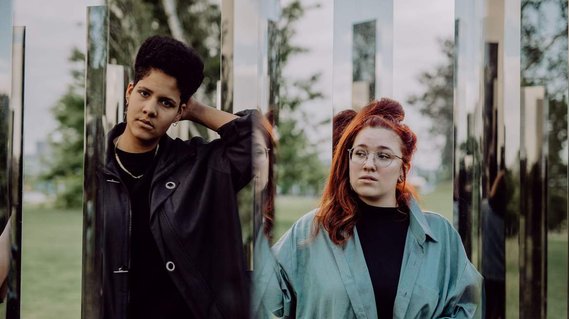 Since meeting in March 2018 at the 'Eventim Pop Kurs' in Hamburg, Germany, the two musicians share more than their british roots and humour: THEYY quickly realized a strong musical connection and began to establish their very own stylistic vibe and intuitive production, giving them the freedom of trying out any idea or sound that feels right. Knocked around by bass drums and overwhelmed by dark synths, you will find yourself feeling uncomfortable one moment and uplifted the next. Strong melodies will creep their way into your brain and haunt you for days. While one song never quite sounds like the other, the core message of their music is sure to leave a lasting impression.
THEYY are here to stay.
Photo by Laura Schepers